How much time does one take to be successful at a dish?
A week's try, or may be a month or few. I have gone way beyond this benchmark and took almost 2 1/2 years to get one of my favorite breakfast right. Mix Veggie Oothapams that my Mom made always topped my list. I was never into cooking until 3 years back, and cooking was the activity I did only when my Mom was out of station.
It was when I moved out of my house to take up a job, cooking caught up with me. Initially, to save myself from getting ready day after day, walking to the nearby restaurant and eating, the almost same tasting food, irrespective of what you ordered. Expectedly, cooking started off as a bit of cumbersome job; to fill my and my roomies (She didn't know to cook much) stomach and eventually it started relaxing me after the day's work. Now it is something I look forward to. Anyways I think I got a little sidetracked, back to the Oothapams. I made several attempts to make Oothapams, but they Never seemed to turn out fine. I never gave up however, until my husband started avoiding them :)
So this time when I was visiting my mom I asked her to show me how she made them, and I realized I was making too many mistakes in the proportion of the ingredients. I have learnt my lesson the hard way (Though my husband feels he has had it the hardest, eating up those unsuccessful Oothapams).
Mix Veg Oothapams are fast to make, very healthy and you can always experiment with the vegetables depending on your choice or even availability.
Mix Veggie Oothapam
Ingredients:
1/2 Capsicum finely diced
1 Tomato finely diced
1 Green Chilli finely chopped
10 Coriander leaves chopped
10 T Rava
1 1/2 T Curd
1 tsp Red Chilli powder
1/2 tsp Baking soda
200 ml Water
Salt to Taste
Mix the capsicums, tomatoes, green chillies, coriander, red chilli powder and salt.
Add the Curd, Rava and Water to this and let this mix stand for 10 mins. Heat the tawa. When the tawa is ready, add the baking soda to the rava mix. Just mix it a little. Put a portion of the mix on the tawa and flatten it using your fingers, depending on how thick you like it, 1/2 cm thick should be good.
Put some oil and roast. Take care while flipping the Oothapam, it can be very tricky. I still land up breaking them while flipping.
Enjoy it with Green chutney or Tomato Ketchup.

Incase you don't have capsicum, try it with cucumber. I have never done this personally, but my mom makes this combination as well.
I am sending this to Weekend Breakfast Blogging, WBB July'08 which is being hosted this month by Sia of Monsoon Spice.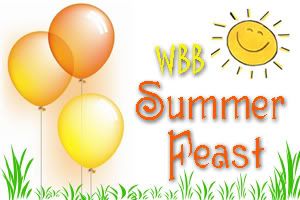 In her own words, this event was started by Nandita from
Saffron Trail
to popularise breakfast among food bloggers.
Isn't the logo by Sia wonderful?